I have a new ukulele!

Yesterday was good, if a little odd. I met up with my ex for sushi, and we went for a bit of a wander around the lake. It was beautifully sunny, with a touch of fog in the distance, and I took a second to count my blessings as we ate ice-creams and laughed at the ducks wearing dog masks.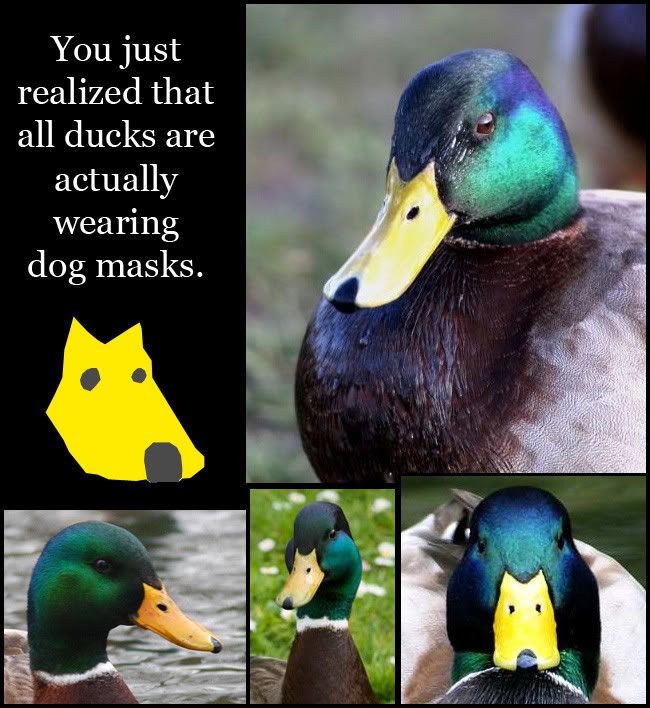 (Nightmare warning:
this is why they wear dog masks
.)
Back at my house, I finally introduced him to Colin the Rabbit, who had a very happy half hour wandering around the garden before utterly refusing to return to his hutch. If you've ever wanted to know what complete loss of dignity looks like, I imagine it's me running around a small paved garden after a bunny who is outwitting me at every turn.
Later on, after a brief pubwards excursion with the girls I live with, we met up with a mutual friend who mentioned he was selling a ukulele. Now, the uke I've been learning on since my birthday last year is pretty much the cheapest model you can get - a
red mahalo soprano
- and I've been intending for a while to upgrade if I stuck with it (which I have). So, far be it from me to pass up on such a serendipitous happenstance just because I really, really shouldn't be spending money right now.
The new uke is BEAUTIFUL
. I'm not sure if it's a soprano or a concert; I suspect the latter but the guy I bought it from didn't know anything about ukuleles. Like, anything at all. It was tuned wrong.
Some friends came over and we sat in the garden. I could see the stars. I love that about our garden; I didn't expect to see stars in the city like this, but there they are, whenever the sky's clear. After disappearing inside the house to play with my new instrument a couple of times, my lovely friends and housemates badgered me into performing for them, which I duly did. Long story short: I have to play at an open mic night in two weeks. Aaaaah *flail!*
I apologise for the lack of updates recently; this particular post was prompted by the lovely
SufficeBlog
.