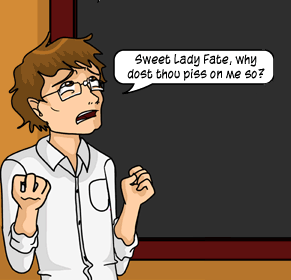 The other week, I was walking around with my beloved, discussing terms such as 'depressive' and 'autistic.'

I was very much of the opinion that labelling people in this manner isn't always constructive; that it can lead people to resign themselves to something that could possibly be changed.

G patiently explained that a lot of people find it helpful to be able to understand certain things about themselves; why they act, or feel, a certain way; and that these labels can be instrumental in helping them come to terms with it.

"Well, fair enough" I said in my infinite wisdom, "but I think I'm self-aware enough that I wouldn't need a label like that. I'd have more hope of improvement if I just thought of it as 'a low period' rather than full-blown DEPRESSION. Actually calling it DEPRESSION feels like it would remove any hope of recovery."

Anyway, it seems the joke's on me: I've been diagnosed with clinical depression. My status on MSN has accordingly been upgraded from "sigh" to "bugger."

By the way, the post title is from this strip of the wonderful Questionable Content. Probably one of my top three webcomics (which is saying something since I'm currently subscribed to 28). As usual, the comic will be going up on the left.

While you're here, please enjoy this amazing video of how the song Breakfast at Tiffany's would really go! I love it.