I've been really enjoying Sherlock on BBC1. Actually, to be pedantic, I've been enjoying it on iPlayer; the future is here and I am no longer shackled to one time and channel (a fact that's led me to bid a tearful farewell to the Radio Times, despite its obvious worth as a media magazine). In fact, our television doesn't receive any channels, so instead I wait until a convenient moment and watch it online. SCIENCE!

It's a testament to the show's excellence that the 'convenient moment' is never too long after its airing time. I confess to not being one of the first on board the bandwagon; I only watched it because everyone was talking about it on Twitter, and because @Steven_Moffat (who co-created it with @MarkGatiss) had just signed up himself. That's the wonderful thing about peer pressure; sometimes everybody's telling you to try something because it's actually really rather good.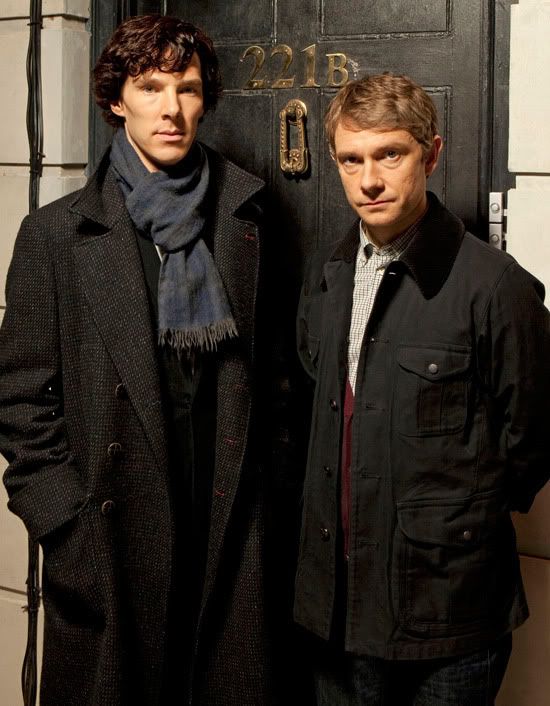 Really rather good. Also: nom.
I haven't yet seen the inevitable "if you like X, you'll love Y" review, so I'll be the unimaginative chump who says it: Sherlock is in much the same vein as Doctor Who. You've got the brilliant, wild, unpredictable lead character legging it around the place, with his faithful companion in tow (who's picking it up as he goes along, and learning a lot about Life, the Universe, and Everything). It's only through Benedict Cumberbatch's enthralling performance that this never feels old. There's a wonderful moment in the second episode (out of three, mind, so you don't have long to get on board) when Holmes does an impression of a 'normal person' in order to get his way. The social skills and charm are switched on, and Cumberbatch transforms himself again. I've not seen him in anything else, I don't think, but I wouldn't be surprised to see incredible character range from him in coming years. As for Martin Freeman: he is exactly what Doctor Watson (or, for that matter, a TARDIS-travelling companion) should be. Interesting, active (as opposed to passive), and learning about Holmes as the audience's eyes and ears. My only criticism would be that we haven't seen much emotional intensity from him, not even at times that would have demanded it; but his character's time spent in Afghanistan probably mitigates that accusation.
Another thing I've loved about this miniseries is the accompanying web presence. The first episode mentioned
John Watson's blog
and Holmes' site "
The Science of Deduction
." In addition to these,
Molly Hooper's blog
and
Connie Prince's website
fill out the universe; giving me things to read and puzzle over in the time between episodes. Sites like this really help to bring characters to life for someone as web-obsessed as me, and although I would have preferred in-character twitter accounts, I understand the problems that would present regarding timing, interaction etc.
The plots themselves are convoluted, well-structured, and cleverly untangled by the dynamic duo. The use of text overlay is sheer genius; it's 2010, yet most programmes are content to narrate every text they receive and letter they read. Leave unwieldy exposition to lesser mortals; with Holmes, it's all internal. As it should be. So, in conclusion: I'm very much looking forward to the finale; and not just so that I can stare at Benedict and Martin's lovely lovely faces.
The third episode will air Sunday, 9pm, BBC1; or watch it at http://www.bbc.co.uk/iplayer/ for a week after.
There's a good interview with Cumberbatch here if you're interested, but you can't have him.
P.S. my lovely friend Katie has updated her blog with her own
Sherlock review
! Do check it out.