This is a story all about how my life got flipped, turned upside-down. Now I'd like to take a minute, just sit right there, I'll tell you how I stayed up way too late reading an incredible story.

Yesterday, while researching the Digital Economy Bill, I stumbled across mention of an ebook called Little Brother by Cory Doctorow. I knew the author's name, of course; Doctorow is something of a big noise on the interwebs, though I'd never read anything of his before. The Creative Commons license on Little Brother and the price tag (£0.00) intrigued me, so I downloaded the PDF and decided to come back to it later.

That night, I was in Gavin's spare room. Our sleeping patterns are so different (me being a student and all) that I usually bring a book with me to read until I get tired. In the absence of a book, however, I resorted to reading on my phone; PDF wasn't an option, but such is the magic of Creative Commons that it was available in loads of different formats. I ended up reading the HTML version.

For five hours.

I got wrapped up in the story: a teenage boy and his hacker friends. A government that responds to terrorism with shows of force. A prison kept secret from the public. All these elements caught me up and kept me reading, long past the point where it was just 'something to do until I got tired.' For the first three hours, I told myself that when my already-low phone battery died, I'd go to sleep; but when it finally did, I went downstairs and got my phone charger. I endured multiple phone crashes, every time patiently restarting and scrolling to where I'd left off.

At some points, I had to stop reading just to catch my breath and let my heart slow down. At others, I completely forgot where I was - I couldn't have cared less, all that mattered was the story! It's hard to classify, exactly. It's technically a dystopic, futuristic sci-fi, I suppose; but it could be non-fiction within a couple of years. That alone makes it deeply unsettling, and thoroughly in the spirit of Orwell's 1984, for which it was named.

Being the excitable little fellow that I am, I couldn't even wait until I finished it before telling the world. I announced on Twitter: "Head full of thoughts. Too excited to sleep. Damn... You KNOW when you're reading something that will change you." It's been an awfully long time since a book's done that to me.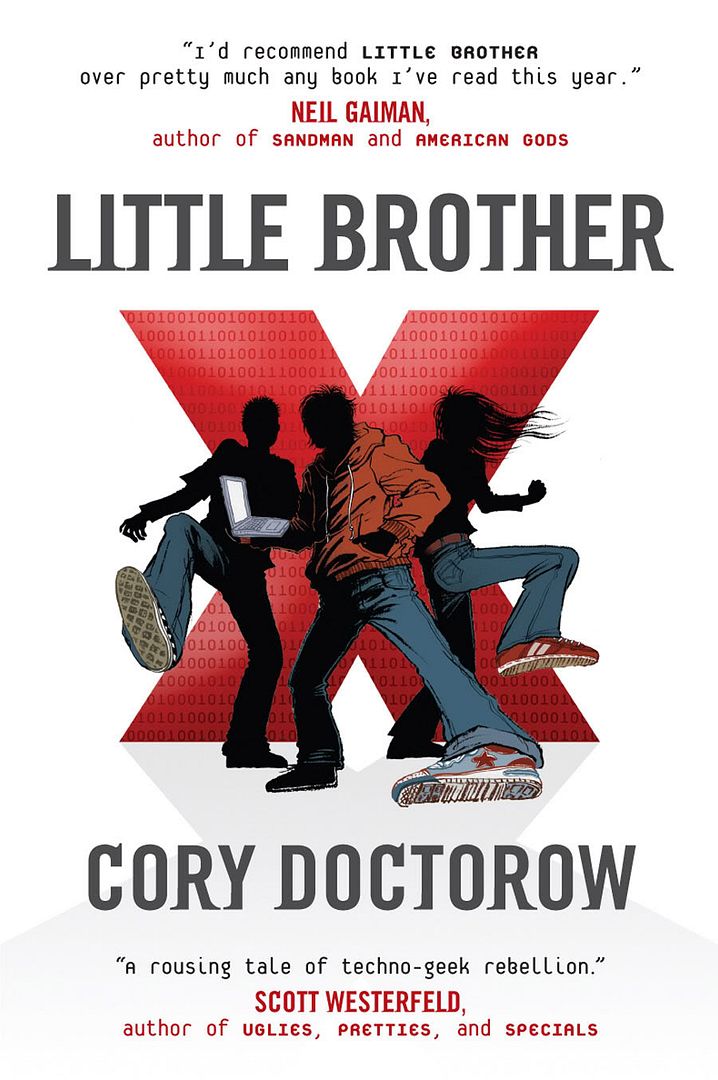 Obviously, I can't promise that you'll react the way I did, or even that you'll like it. But I feel compelled to share it.
There's a lot of information in the book about what you can legally do with it and why, and Doctorow's kindly allowed for the fact that I want EVERYBODY to read it.
I have the PDF on my USB key; I will leave a copy on the desktop of everyone I feasibly can. Is he losing money on it? No, I fully intend to buy a copy, something I wouldn't have done previously. Another small victory for the new way of doing things, I think.
Read Little Brother for yourself.
The link will go in my 'interesting things' sidebar.
PS I'm listening to a
Podcast of the Lib Dem debate on the DE Bill
, it makes for very interesting listening.
PPS For something less serious and more noodly, check out
Spaghatta Nadle
.