I've been so grumpy today. No, not grumpy; grumpy implies that it's my 'time of the month', or that I 'got up on the wrong side of bed', and I want to be very clear about the fact that it was not my fault. In fact it was very definitely other people's faults. And I was all ready to write a strongly-worded blog post that they'd (hopefully) never read that would eviscerate them and prove me King of the Everythings once and for all.
Then I remembered to get over myself, and that it was just a damn uni project, and then I was ok.
BUT THEN! Oh, I know, non-stop drama!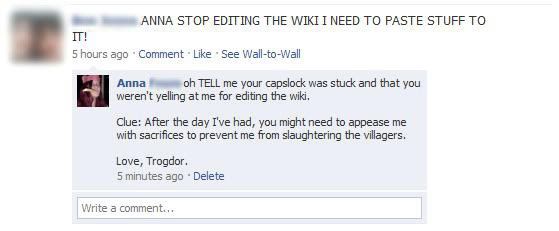 HULK SMAAAASH.
Anyway, in the spirit of Phil's glass-half-full approach, at least it reminded me of Trogdor. It's an awesome game!! Maybe the best game ever!!! You can't play it though.
Oh, go on then.
BURNINATE!
PS I know I'm being a douche, but that's my right. I'll get over myself again soon enough.