Well, what a week... on Tuesday, I had my first 'proper' job interview. I'd been saying for a few days that I felt really confident about it it, but as I took the 15-minute train journey to Penarth, I got increasingly jittery. The truth is, I had no idea what to expect. My good friend Tony had given me a few tips, told me what questions to ask etc -and I was racking my brain trying to remember them.
I arrived about an hour early, taking punctuality to new and unnecessary levels. Just as well I did, really, as I got lost. I managed to arrive a reasonable ten minutes early, filled out a form, talked to some people, and then was led into a side-room where I would either be murdered or interviewed. As soon as it became apparent that it was the latter, I relaxed, and answered every question confidently and with a smile on my face. They'll let me know in two weeks, and I'm quietly confident. Can you still be 'quietly confident' if you're telling everyone that you think you got it? Let's say yes.
The next day, I went back to university for the first time in almost a year. The second I got talking to a couple of lads outside my class, I knew that this year would be interesting. The one with a ponytail had perfected the sleazy wink that has been used (tragically, quite successfully) on me in the past, and one with ginger dreadlocks and a massive coat seemed like a generally lovely chap. The class itself was more or less what I expected, but I'll be honest, I was more interested in Mat and Ben, for those are their names. They made me laugh, they were friendly, and I ended up spending the day with them.
Mat was handing out CVs in town, and ended up getting an interview while Ben and I talked on the steps outside. It was fascinating to speak to someone with such a different philosophy to myself, who nevertheless seemed very much on my wavelength. I went back to Ben's and watched half of Dark City before I had to go.
Today was a much quieter one, but I'm delighted to say that I have made a personal breakthrough! Ohyes! It's a matter of record that I have never, ever managed to draw a man that doesn't look horribly deformed or like a serial rapist. Often both. But today, I drew this chap: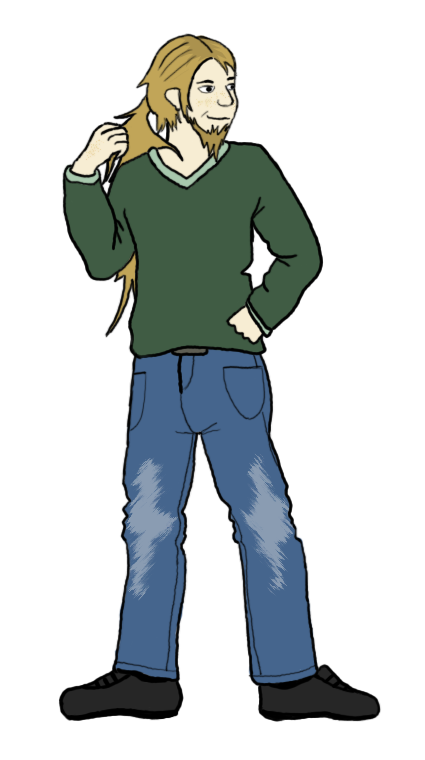 ... and I'm really quite pleased with him.